THE MISSING SYSTEM BETWEEN WHERE YOU ARE NOW AND GETTING 30 - 50 NEW CLIENTS EVERY MONTH IS...
Like This Consultant You Lack a Proven System In One Specific Area of Your Business, and Are Skirting Disaster Without It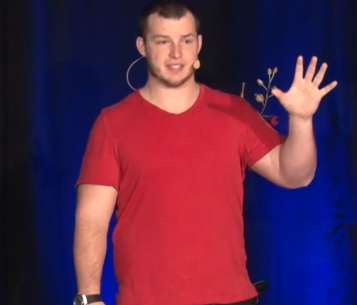 Mike Buontempo
"I had no idea how close I was to failing," he told me. "I'd get a run of good luck, some referrals, and things would seem to be going well. But that luck would run out. And where was I then? If that had kept happening...No...I needed what you've got."
This consultant had painfully learned the secret, one that many business owners never figure out; let me give it to you now:
You must have a steady river of inbound leads if you want to be successful.
The kind of river of appointments that gets you 30 - 50 clients every month.
But how do you do that?
Hi, I'm Mike Buontempo and over the past ten years I've become the sought-after advertising expert for loan officers, insurance agents, highly skilled consultants and more. This is the very question, "How do you do that," so many business owners ask me literally every day. So it's not your fault and it is actually completely normal that you've reached this point.
The fact that you're reading this means it's very likely you've gotten past the first big hurdle to business success: proof of concept. I'll bet people have paid to work with you...and I'll bet they liked it. You've proven to yourself and the world that you can get customers and make them happy.
But now there's this second hurdle. And it's one I've heard about from many feisty, smart, dare I say heroic business owners who have proven they have what it takes to land clients and get results for them.
They're stuck and can't grow because they don't know how to get a steady river of inbound leads.
And business owners in situations like this know they must solve this problem, or with the sound of cannonfire and a rush of wind their business will be blown away. Back to a job, back to putting up with family and friends who say, "I told you so."
The Expert Path to 30 - 50 New Clients Every Month
Wouldn't it feel amazing if you woke up to a consistent pre-booked prospects who are ready to buy every day?
Wouldn't that be a huge relief?
That's the path to closing those 30 to 50 clients a month. All it takes is one or two sales a day.
I have to tell you...this one factor is the key not only to the financial rewards you're eager for, but to finally proving to family and friends once and for all that your business is real.
Want to know what the proven secret to doing that is?
Correctly Using Facebook Ads
Hey, I know something about you.
You're the kind of person who figures things out.
You like numbers, you're unafraid of doing the work when you know the effort is going to pay off, and you can take what an expert gives you and run with it.
You wouldn't have a business that has gotten customers, and made a high five figures if not six figures in revenue this past year, if you were not.
And that's without the river of inbound leads I want to help you get.
Imagine what you could do if you had the expertise I'm able to share with you on your side.
Getting your calendar filled up with pre-qualified appointments who are ready to buy is a key to feeling powerful and in control of your business. Instead of taking whoever comes along, you get to pick and choose. You get to decide.
I'm going to make an audiobook available to you. It wasn't supposed to be offered outside my inner circle: I made it to educate new clients. But business owners in the exact same situation that you're in kept asking for help. So here it is. I'm going to reveal to you:
EVERYTHING YOU NEED TO KNOW ABOUT THE RIGHT WAY OF RUNNING FACEBOOK ADS & TURNING THOSE LEADS INTO CLIENTS
The simple tracking system that shows you how to systemize the number of clients you allow in every week--it's as easy as putting in one dollar and getting back two
The way we 4X your deal count by following every prospect to move them from being "on the fence" to talking to you, using authority positioning content, testimonials, and ads
The ultimate and easy 15 second video ads we use to bring in highly targeted clients for incredibly low cost
How we use a free "underground" software to make our ads images POP, bringing visitors from Facebook newsfeed to your site at a powerful ROI
The unexpected ads placement that FAILS every single time...so you can completely avoid this campaign-killing problem
The simple but often overlooked way to track every single click, lead and sale that is absolutely necessary if you want to scale to six figures a month in revenue
The magic of proven Look-Alike Audiences to use once you've collected initial data
The Ad Copy Formulas that give you winning ad after winning ad--you need to be testing these two specific copy formulas to get the biggest bang for your buck
How to leverage the testing in and our experience of having managed millions of dollars in ad spend, so you'll know when to cut your losses and when to scale up
Our Retargeting Strategies that bring in more sales for any advertiser. We have three specific campaigns that we run for ourselves and our clients, and if you want to hit your prospects from all angles in order to convert them, you need to make sure you have these in your arsenal
And best of all, the two main campaigns we set up for every client we take on in our $3500/month program. We walk you through the initial setup, the audiences we test, number of ads, the copy and everything else our premium clients get.
Everything I'm sharing adds up to...
The sales funnels, ads, retargeting and other critical elements we use to fill our calendar to bursting every single day
And many of those qualified appointments turn into profitable, happy clients. Wouldn't you like to have all that? I'm going to show you everything necessary to do it right.
How badly do I want you to have this life-changing information? So badly that I've made the investment only $1.99.
Frankly, there is so much bad advice floating around about Facebook ads that I want to make this audiobook available to everyone.
If your lead generation activities until now had you on a hamster wheel--desperately cold calling, networking, spamming LinkedIn praying for somebody, anybody, to reply to a message--then you need to get this audiobook right now:
I have more for you, too...
The Incredible Webinar Case Study Walk-Through That Shows You How We Consistently Make 5X ROI
Pay attention because in this section is the walk-through of our webinar case study. It brings us 8 - 10 appointments from presold prospects who are ready to buy every time we run it--in fact, the webinar currently brings us a 5X ROI.
We dive deep into it in the audiobook, covering:
Our Webinar Case Study that brings in 8 - 10 presold appointments every single day
The exact sequence we take people through, including the flow, the ads, and the why
The specific custom conversions we set up to track our campaigns, which also allowed us to create custom audiences of our most pre-sold prospects
How we get Testimonial Videos from our best clients so we get prospects off the fence
What software we use to segment our best prospects based on how long they had watched, and the emails we sent them to convert the sale
The simple one line of text we added to our thank you page that 4Xed our Booked Calls Revenue--once you add this to your campaigns, you'll see immediate ROI
How much we paid for a booked call, what a booked call was worth to us, and how we tracked everything
The "Sweep Up" Campaign we ran 45 days after a prospect opted in that brought in 30% of our revenue.
If you're currently running a webinar or thinking about running one and not doing what I share with you here, what can I say? You're missing out on more clients and a massively improved ROI.
I have one more thing to say in a moment and then I'm out.
But let's address two important things before we go any further:
One, about the banning of Facebook ad accounts. I'm sure you've heard horror stories. Well, I'm going to share with you the dreaded "Trigger Words" you must never use in your Facebook ads. Once you've learned those, you'll be able to steer clear of them.
Two, my results are not typical. What will happen if you buy this and do nothing with it? Nothing, of course. But if you do take consistent action based on my ten years of advertising experience, putting in the time and effort to succeed with the expertise I'm sharing with you, you'll have...
THE PROVEN WAY OFF THE HAMSTER WHEEL OF PROSPECTING, AND AWAY FROM THE DESPERATION OF HOPING FOR REFERRALS
Remember, if you leave things as they are you will not magically start getting a steady river of pre-booked appointments. This situation is not going to fix itself. You need my help.
The question is: "Are you going to put up with things staying the way they are? Or is now the time to get the expertise working for you to make the big improvement you know your business needs?"
With my expertise on your side through this audiobook, I know you've got the stick-to-it nature and smarts to implement the things I reveal--and start seeing your calendar fill up.
It doesn't have to take a huge amount of time and energy to get my proven Facebook ads system up and running...
...but at this point I'm sure you'll agree that it does take expertise. And that expertise is available to you right now in my audiobook for just $1.99:
If it turns out you don't feel I gave you a ton of value, simply email or call us and we'll immediately refund your $1.99.
But I'm certain you'll love what I share. And I've made it so easy to say, "Yes." You'll get it...you'll use it...and you'll be incredibly excited about the results.
To your success,
Mike Buontempo
P.S. Without a consistent river of inbound leads...allowing you to wake up every day to a calendar full of booked appointments of prospects who are ready to buy...your business won't succeed. No one can thrive exclusively off a trickle of referrals. But the expertise I'm sharing in my $1.99 audiobook will show you how to stop wasting your energy on bad prospecting, and the right way to use Facebook ads to profitably bring you 30 - 50 new clients every month.
And buyers today get an extra special gift together with the expert audiobook!
BONUS: 30 Minute Webinar Breakdown Masterclass
Since I want you to have absolutely everything necessary to succeed with Facebook ads so you can have 30 - 50 new clients every month, I will give you this masterclass with the audiobook.
I'll be showing you what we did to scale a webinar-based offer: you'll get to see the actual video ads we ran, the sales funnels we operated, our numbers including ROI--everything. Then you can go and implement something similar knowing you have a proven example to refer to.
And if after getting to know me and our systems you don't think you got your money's worth...just send us an email or give us a call and we'll refund your $1.99. This is as easy as it gets.