Brand New Audiobook Reveals:
How To Get All Of The Clients You Could Ever Handle Using Facebook Ads
If you want to bring in more visitors, leads, and sales, then this will be the most important audiobook you ever listen too.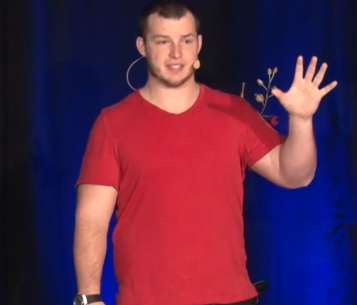 Mike Buontempo
Dear Business Owner,
Do you wish you had a system that brought in clients every single day without banging the phones, messaging people all day on LinkedIn, or networking till your face falls off?
Well if so, then this will be the most important letter you'll read all year.
First A Little Word To The Wise
Please understand my results are not typical. If you're the type of person who buys audiobooks, info products, and does nothing with them, this will not help you.
I have the advantage of practicing advertising for the past 10 years and have mastered my craft.
If you're not willing to work hard, and take consistent action, do not get this offer.
If you are willing to put in the time and effort to succeed, then by all means, continue.
Here's Exactly What You'll Discover When You Grab This:
These tactics have been tested with Millions of Dollars spent on Facebook Ads, and continually work for dozens of our clients + our own advertising as well.
These are the same tactics we use to bring in new clients every single week for our marketing agency, plus the same tactics we use to help our clients bring in up to 123 new customers a day for their Consulting firm.
Here's a Fraction of What You're Getting:
The simple tracking system that will help you know exactly how much it costs you to acquire a client. Then you can take these metrics and systematize the amount of clients you take in every week. It's as easy as putting in One Dollar and getting out Two.
How to follow every single prospect whose on the fence around with Testimonials, Content that presells you and your product more, and ads that allow you to close up to 4x more deals.
The 2 main campaigns we setup for every single client we take on. We walk you through our initial setup, the audiences we test, how many ads, the copy, literally everything we do for our $3,500 a month Facebook Ads clients.
The one ads placement you do not want to target at all. If you target here, be prepared to lose money and simply kill your campaigns.
How to create easy 15 Second Video Ads that bring in your target clients for cheap. These ads are extremely easy to create and we go over exactly how to do it.
A FREE 'Underground' Software we use to edit our images which make them "POP" out of the newsfeed. This will help you get cheaper visitors to your site, which will stack that ROI high.
How to track every single click, lead, and sale. This is simple, but often overlooked and you need to do this if you ever want to truly scale your business to $100k a month.
The Ad Copy Formula my team uses to launch winning ad, after winning ad each time. If you want the most bang for your buck, you need to be testing these two specific copy formulas, if not, you're leaving $ on the table.
Our Retargeting Strategies that bring in more sales for any advertiser. We have 3 specific campaigns that we run for ourselves, and our clients, and if you want to hit your prospects from all angles in order to convert them, you need to make sure you have these in your arsenal.
How to look at the data so you know when to scale and when to cut your losses. This is tested across Millions of Dollars in ad spend and will allow you and your team to get to the next level.
The Specific Lookalikes Audiences we test immediately after we get some data. You need to make sure you're making LLAs based off these audiences, they will be some of your best campaigns.
Some More Of What You'll Be Learning:
BANNED - Which Trigger words to never use in your FB Ads if you don't want to risk getting your account shut off.
The Vanity Metrics you should never worry about and the ones you need that actually drive new profitable client acquisition.
The "A Lever" which shows you your best ads across every single campaign, ad set, and interest, which allows you to take your best ones and scale them up using broader targeting.
The "No Targeting" technique we use after a certain point in time, which uses FB's Artificial Intelligence to bring in your perfect prospects with sniper rifle accuracy.
3 Different Types of Video Ads you can start testing right now to get cheaper leads, and clients this week.
Plus Our Webinar Case Study That Returned 5x ROI
The EXACT sequence we took people through. We go over the flow, the ads, and the why.
The specific custom conversions we setup to track best our campaigns, which also allowed us to create custom audiences of our most pre-sold prospects as well.
How we get Testimonial Videos from our best clients so we can get prospects off the fence who are thinking about buying our programs.
What software we used to segment our best prospects depending on how long they had watched,and the emails we sent them to convert the sale.
The simple one line of text we added to our thank you page that 4x our Booked Calls Revenue. Once you add this to your campaigns, you'll see immediate ROI.
I reveal how much we paid for a booked call, what a booked call was worth to us, and how we tracked everything.
The "Sweep Up" Campaign we ran 45 days after someone opted in that brought in 30% of our revenue. If you're currently running a webinar and not running this, you're INSANE.
This Is For People Who Want More Leads and Sales From Facebook
At the start of the audiobook we focus on the basics and how to get started and then we get into the more advanced stuff that will help you scale.
If you're just getting started out this will help you get a great base to leverage and actually get results fast.
If you're an intermediate advertiser or even a pro, we go over some of our advanced strategies to squeeze even more profit out of every campaign we launch.
There's 0 Catch Here
There's no secret trial we're adding you to here, it's simply $1.99 to get in. We know that if you actually implement what we tell you too in this audiobook, you're going to bring in more Leads and Sales from Facebook.
Then you're going to want more products and services from us. We're here to give first, and then receive later, as long as we deliver.
100% Money Back Guarantee
If for whatever reason you don't like the audiobook, we'll refund you your $1.99 and you can keep the audiobook for free.
Just email or call us and you'll get the money refunded right back to your card - no questions asked.
Here's Exactly What To Do Now
Click on the button below, you'll be taken to our checkout page where you'll be able to order our audiobook for just $1.99.
You'll get instant access and will be able to start bringing in more leads and sales for your business via Facebook Ads this week.
So click the button below and I'll see you inside.